Pure calendar is a agenda and tasks widget.
It can display :
- agenda events from Google agenda, Motorola Exchange, LG Exchange and TouchDown Exchange
- tasks from CalenGoo (with Google Tasks sync), Astrid (with Remember the milk sync), Tasks Team (with Google Tasks sync), MyPhoneExplorer (Outlook direct sync), Ultimate To-Do List (with Google Tasks and ToodleDo sync), TaskSync (with Exchange 2007/2011 sync), Dato Gtasks (with Google Tasks sync), SSi Gtasks (with Google Tasks sync), GotToDo (with ToodleDo sync), TouchDown Exchange, DGT DGT (with ToodleDo sync), Pocket Informant 2 and 3 (with ToodleDo sync)…
- birthdays from contact book
The TouchDown integration offers to display events and tasks from Exchange.
For more informations about TouchDown Exchange, have a look here
It fully supports Android 4.0 (Ice cream Sandwich) and Android 4.1 (Jelly Bean), with events view, edit, delete.
Since Android 3.x, no need for alternative launcher to scroll widget content.
It offers following features :
- direct event and task insertion from the widget.
- insertion of repeating events (every x days/weeks/months)
- mutiple sizes and skins to adapt it to your taste
Task manager features
For scrollable list, you need to use 'ADW.Launcher', 'LiveHome', 'Go Launcher' or 'LauncherPro'. If you have empty scrollable widget, this can be due to a Launcher bug, please read this post
If you want to translate it in your language, please, check here : http://koxx3.wordpress.com/2010/12/23/translation_is_now_open/
——————————-
Install now
From Android phone market : market://details?id=org.koxx.pure_calendar
From web market : http://market.android.com/details?id=org.koxx.pure_calendar
——————————-
Screenshots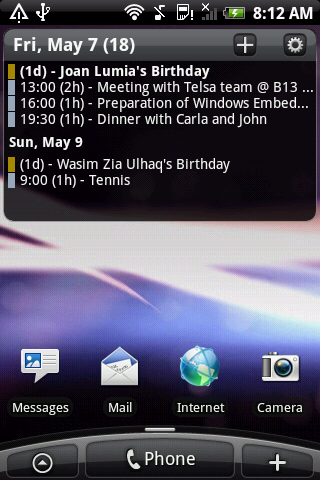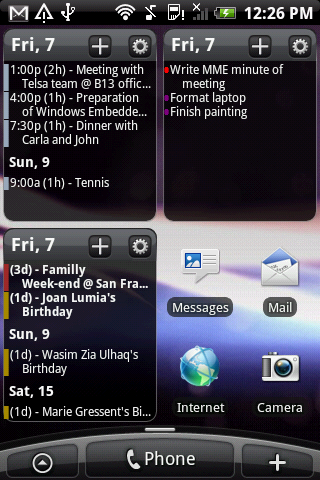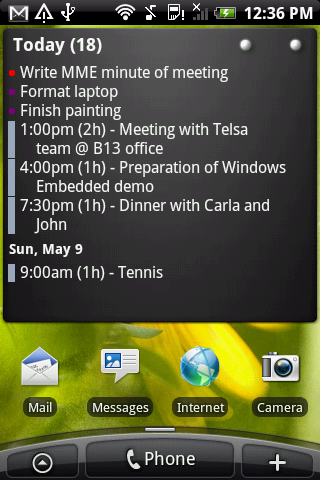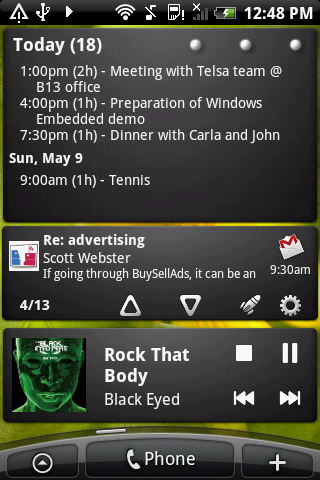 ——————————-
Tested on …
HTC Dream/G1
HTC Magic/G2
HTC Hero
Acer E120
Moto Droid/Milestone
Nexus 1
HTC Incredible ???
Moto Droid X
Moto Droid 2
Samsung Galaxy
Samsung Galaxy S
Samsung Vibrant
HTC Wilfire (use htc hero/eris bug fix)
LG Ally
Samsung Galaxy Tab 7 / 9 / 10
Motorola Xoom
Sony Xperia Arc
HTC EVO (3D)
Nexus S
…
it works on most devices, if you have any problem, please, contact me.
——————————-
——————————-
Reviews
http://koxx3.wordpress.com/pure-widgets-reviews/
——————————-
Bugs report
- today date not replaced by 1rst date with events
——————————-
Next features
++++ option: show week number every day line
++ grey past events in scrollable mode
——————————-
Dropped ideas
+ font size applied to day bar —> can't work with skins bitmaps
+ disable service if no widget installed —> a widget installed is a widget used
+ refresh button ask tasks list refresh (Astrid / GotToDo)
——————————-
Revisions log
-nr : not released
3.1.8nr:
- FIX crash with PI3 task creation
- FIX tags listing for PI3 tasks
3.1.7:
- NEW support of Pocket Informant 3 (demo and full)
- IMPROVE translations
3.1.6:
- FIX double date issue for inline date and tasks
- FIX tasks remaning days count
- FIX some tasks date display troubles
3.1.5:
- FIX inline date
- FIX Dato Gtasks listing
3.1.4:
- IMPROVE 'today' and 'tomorrow' string usage
- FIX Astrid due time
- FIX automatic translation for today/tomorrow
3.1.3:
- NEW skin server (fix user skin publishing)
3.1.2:
- FIX Team Task due dates for users with GMT-x TZ
3.1.1:
- FIX Team Task launch when 'ask' is selected
- FIX Team Task current day display
3.1.0:
- FIX completed tasks filtering issue
- NOTA Tasks (by Team Tasks) need 1.37 version.
3.0.9:
- NEW support for Tasks (by Team Tasks). Need 1.37 version.
- NEW support Calengoo task priority feature
- FIX inline dates and time with tasks due dates
3.0.7:
- FIX widget text bottom cut for Nexus 4
3.0.6:
- FIX 'ask each time' for event/task insertion
- FIX daily view '+' for event/task insertion
- FIX 's for birthdays and anniversaries
3.0.5:
- FIX year/anniversary counters
- FIX 'ask each time' for task creation
- FIX short time format like '8:00a'
3.0.4:
- NEW option to use custom language for the config and widget display
- NEW compatible with Android 4.2 lockscreen widgets
3.0.3:
- FIX FATAL BUG
3.0.2:
- NEW support event color change (if your device support it – Jelly Bean required)
3.0.1:
- FIX day viewer size in landscape
- FIX date string format for october and 2 digits
- FIX text event color according to source color
- FIX recurring and full days event details view
- FIX storage folder creation issue
3.0.0:
- NEW option to adjust text line width
- FIX QEI width
- FIX Jelly Bean colors
- IMPROVE general QEI rendering (more ICS style)
- IMPROVE data picker
2.9.9:
- NEW allow system app picking for app launch
- FIX insertion of repeating events on Android 4.x
- FIX widget focus on Home rotation
- UDPATE some translation
2.9.8:
- NEW can display birthdays AND anniversaries (update birthday plugin)
- IMPROVE popups panels to more ICS looking
- UDPATE some translation
2.9.7:
- FIX 'Launch null' if 'ask each time is selected for the '+' button
- FIX tags/list filtering issue for TouchDown
- IMPROVE line text cut in scrollable mode
- ADD & UPDATE translations
2.9.6:
- IMPROVE alternate skin server usage to bypass current hosting provider issue
2.9.5:
- NEW MyPhoneExplorer task manager support
- FIX quick actions images issues
2.9.4:
- NEW options to edit data separators
- NEW support '%%mm' to display 2 digits month number
- IMPROVE calendar selector
- IMPROVE config theme
- FIX skin manager skin issue (download & colors)
- FIX date editor size issue
2.9.3:
- NEW include new official 2012 skin (ask when reconfiguring, or enable/disable it in system tab)
- NEW allow setting export naming
- FIX contact birthday tap issue
- FIX home timezone option with TZ having 30 minutes shift
2.9.2:
- FIX settings export
- FIX timezone selection crash
2.9.1:
- NEW Home timezone option for travels
- FIX Galaxy Note filling issue
- FIX QEI with seconds and milliseconds problems
2.9.0:
- NEW and updated translations
- REMOVE contact permission and publish 'Birthdays for Pure widgets' plugin to extract birthdays from your contact book.
2.8.8:
- NEW option to filter duplicated events
- NEW support of 'quick event' app for '+' widget button
- FIX compatibility with Android 1.5
- FIX display of days without events in scrollable mode
2.8.7:
- NEW partial support of 1020×768 tablets (please, send screenshots if you have such devices)
- FIX birthdays for some Samsung devices
- FIX internal issue with scrollable mode and Honeycomb/ICS
- FIX enable by 5*x widget sizes by default
2.8.6:
- FIX major issue with birthday management
2.8.5:
- NEW get birthdays from Contact book ! (may not work on all devices)
- FIX bullets with more than 6 events in a day
- IMPROVE automatic widget sizes and enable them (for tablets or large devices)
- IMPROVE widget config
2.8.4:
- NEW enable horizontal resize capability (you NEED to enable the scrollable mode to fill the widget)
- NEW enable Holo theme in config panel for Honeycomb/ICS
- FIX text cut when using 'force line break'
- FIX brackets usage "
2.8.3:
- NEW skin manager with publishing and rates
- NEW ICS skin
- FIX filling issue on Galaxy Nexus
- FIX Honeycomb/Ics layout problems when scrollable
- FIX Honeycomb/Ics formating issues
- FIX Honeycomb/Ics color bars in scrollable mode
2.8.2:
- IMPROVE cariage return management
- FIX Honeycomb/Ics refresh issue
- FIX Honeycomb/Ics formating issues with smaller widgets and scrollable mode
- FIX small internal database, config and info layouts fixes
2.8.1:
- FIX 5×5 for Galaxy Note (at least trying …)
- FIX cariage return management for 2x* and 3x* sizes
2.8.0:
- NEW compatible with Ultimate ToDo List Tab
- NEW 5×5 widget size for Galaxy Note (not tested because I don't have such device. please contact me for problems)
- IMPROVE application picker
- IMPROVE bullets and cariage return management
- IMPROVE events bullets color
- FIX task text width
2.7.9:
- NEW display calendar event occurrence count for yearly events (like birthdays)
- NEW support of TaskSync task manager in BETA (for Exchange 2007 or 2010 tasks) !!!
- FIX HTC Rezound and 720×1280 phone resolution usage
- FIX Pocket Informant unfiltered template
2.7.8:
- NEW full support of Android 4.0 / Ice Cream Sandwich / ICS
- NEW fully new internal skin system with lower memory usage
- NEW detection of scrollable support of Android 3.x and 4.x, and of Go Launcher Ex
- FIX Ultimate To-Do tasks colors
- FIX Ultimate To-Do folder filtering
2.7.7:
- NEW Ultimate To-Do List task manager support
- NEW fill widget content if device resolution is not handled
- NEW Galaxy Note resolution support
- FIX QEI date picker
- FIX QEI manual date typing issue
2.7.6:
- NEW support of TouchDown for Mobileiron
- NEW task sorting option
- NEW greek translation
- NEW support of 1024×600 resolution and Ice Cream sandwich / Samsung Galaxy Nexus resolution
- IMPROVE all translations updated (to help in translation, check here : http://bit.ly/qo0zFB)
2.7.5:
- NEW color picker with hex value
- NEW 'show all day events' option
- NEW past events color option
- NEW Honeycomb skin available
- IMPROVE PI phantom tasks filtering
2.7.4:
- NEW can add Pocket Informant events with 'ask each time' button mode or directly with the '+' button
- FIX QEI date issue with latest day of the month
- FIX Pocket informant tasks color
- FIX Pocket Informant auto-refresh (need last PI beta version until they publish it as official)
2.7.3:
- NEW support of Pocket Informant tasks (automatic refresh not yet supported by Pocket Informant)
- NEW auto-hide tablet widget sizes for phones
- NEW 'kill old widgets' action for config panel menu key
- FIX 4×7 widget size for tablets
- FIX QEI date picker for Honeycomb
2.7.2:
- NEW add detection of stock Android calendar database error
- FIX buttons position for small widget sizes
2.7.1:
- NEW option to remove the top date header (be sure to use a skin which doesn't contains header graphics to ensure a good rendering)
- NEW default background if top date header removed
- NEW widgets sizes for tablets (2×7, 3×7, 4×7)
- IMPROVE buttons background
- FIX daily viewer text color usage
- FIX Quick event insertion timezone
2.7.0:
- FIX update Business calendar app links
- FIX today/tommorow reset issue when using config panel
- FIX DGT GTD tags display
- FIX date config issue with %%d.%%m.%%yyyy
- FIX invalid date header size with some specific devices
2.6.9:
- NEW support of DGT Gtd task manager (with new complete/delete actions from the widget)
- IMPROVE some configuration layouts
2.6.8:
- FIX major issue with Android 3.2
- FIX TouchDown due task time display
2.6.7:
- NEW quick action popup in daily viewer for more actions
- FIX Android 3.2 reolsution issue
- FIX QEI if no time is set with duration below 1 day
- IMPROVE czech translation
- IMPROVE skin of daily viewer
- IMPROVE QEI time picker start time
- IMPROVE scrollbar display
2.6.6:
- FIX internal service crash
- FIX skin manager alternative server usage
2.6.5:
- FIX bug if not selecting any calendar (tasks only mode)
2.6.4:
- NEW 2011 APP icon
- NEW support LG Slate resolution (1280×768)
- NEW support of 'none' calendar app to avoid unwanted widget tap actions
- NEW add aCalendar support
- NEW Quick event insertion : calendar date picker now use local settings for week start day
- FIX qHD screen and scrollable mode support
2.6.3:
- NEW support of Samsung Latin America calendar app
- NEW alternative skin server added in case of problem on the primary skin server
- IMPROVE support of qHD screen (540×960)
- IMPROVED all translations updated
- FIX issue with TouchDown for tablets
2.6.2:
- FIX [ask each time] for insertion with HTC/Moto devices
- FIX tasks tags filtering
2.6.1:
- FIX major crash with Android 1.5/1.6
2.6.0:
- NEW system option to fix the full day events date on HTC devices when viewing event details
- NEW task option to show remaining days before/after due date
- IMPROVE more generic event insertion mecanism
- FIX Due today task refresh
- FIX skin modifier size adjuster
- FIX Google Task Organizer market search
- FIX tasks options 'show overdue tasks on current day'
- FIX bug with day view and task listing
2.5.9:
- NEW official skin 2011 available in the skin manager
- IMPROVE bullets rendering
- FIX task option 'show tasks on due date' label
- FIX skin manager modifer issue for Nook
- FIX 'hide today date if no event' option when scrollable mode is enabled.
- FIX multi-lines word wrapping when using scrollable mode
- FIX Xoom text width
- FIX skin manager 'upgrade' action
- FIX Xoom, alternative launcher usage and scrollable mode
- FIX tasks modification listener
- FIX invalid task crash
- FIX multidays events with inline dates
2.5.8:
- FIX crash with task filtering selection
- FIX skin manager modifer issue
- FIX Due Today tasks priority filtering
- FIX Due Today tasks color
- IMPROVE Due time presentation if not set
2.5.7:
- FIX Major bug with '+' action button
2.5.6:
- NEW starting integration of Due Today (not ready yet)
- FIX major issue with Android 1.5/1.6
- FIX inline date option and empty space with big widgets
2.5.5:
- NEW now scrollable with Android 3.0 (like Xoom devices)
- NEW Z calendar app link added
- FIX important color management for events
- FIX crash issue with skin manager
- FIX Exchange events double date
- REMOVE Zeam Launcher scrollable widget support text since Zeam dev removed scrollable widgets support
- IMPROVE lot of modifications have been made to task manager internal processing to prepare porting to Pure Grid calendar -> contact me if you find any issue with task management
2.5.4:
- NEW widget size adjuster background
- FIX widget Spinner in config panel with Android 2.2/2.3
- FIX widget size adjuster for QVGA
- IMPROVE skin manager
2.5.3:
- NEW Calengoo add / edit task from the widget
- NEW Calengoo task list filtering
- NEW widget size adjuster
- NEW support of Xoom tablet resolution
- FIX multidays events in progress in important color on next days
2.5.2:
- NEW CalenGoo available for '+' button action
- NEW Business Calendar final app link added
- NEW TouchDown Tablet final app link added
2.5.1:
- NEW 2 digits day number in date customization
- FIX internal service management bug
- FIX QEI date picker invalid date
- FIX QEI disable Touchdown
- FIX skin manager exception
2.5.0:
- FIX crash with QEI
2.4.9:
- NEW translations
2.4.8:
- NEW Motorola Atrix resolution support
- FIX minor adjustments to layouts elements positions
2.4.7:
- NEW Pocket informant final release app link
- NEW 2×2 and 3×2 sizes are now compatible with inline dates
- NEW important text color bold option
2.4.6:
- FIX QEI time picker manual input
- FIX GTab inverted portrait events missing
- NEW Pimlical app link
- NEW text colors options
2.4.5:
- FIX QEI date picker
- FIX scrollabe double day header
- FIX Astrid/Producteev filtering
2.4.4:
- FIX CalenGoo due date and notes
- FIX QEI time format
- NEW accept Zeam and Go launchers
2.4.3: NEW CalenGoo task provider !! + fix QEI repeat/duration panels
2.4.2: QEI add yearly repeat
2.4.1: add Touch Calendar Full app link + QEI : improved date/time pickers + fix GotToDo tasks + add GotToDo task time support + fix BETA inline date behavior for 4×1 + new Info page format
2.4.0: add CalenGoo app link + fix QEI duration restore
2.3.9: swedish & dusch & spannish & danish translation + 'Google Task Organizer' provider added (need last GTO beta) + fix time picker for QEI
2.3.8: german and slovak translations + detection of AdwLauncher Ex & Zeam + fix bug with start date of QEI + hide skins files from gallery
2.3.7: fix tap zones in scrollable mode
2.3.6: fix skin manager reload on rotate + fix event cariage return pb + fix pocket informant app link + improved touch zones + beta date on same line than event + fix show/hide bullets
2.3.5: switch to a backup skin server
2.3.4: add CalenGoo Beta app link + optimize Galaxy Tab rendering + fix event cariage return pb + add Fliq Calendar app link
2.3.3: fix Touchdown crash
2.3.2: fix cariage return with suspension marks + fix Gemini add action + fully compatible with Samsung Galaxy Tab + add daily events viewer long tap to edit event + quick event insertion remind last duration and reminder
2.3.1: fix scrollable rendering on low res screens + fix task sorting bug + add iRT calendar / Business Calendar Beta apps link + add Gemini for '+' action
2.3.0: add 'Pocket informant' link + manual today/tomorrow translation
2.2.9: fix [ask each time] for app launch
2.2.8: add 0 minute reminder + fix stock calendar 1.5/2.2 selection + fix QEI insertion date for 2011
2.2.7: protection against wrong config + option : show events before tasks + add quick addroid app
2.2.6: ?
2.2.5: fix quick event insertion calendar selection + fix QEI bug + better events sorting
2.2.4: filter task refresh requests + fix week number and override header text + show task due time option + hide double today in scrollable + fix some Launcher cache problems
2.2.3: fix settings import
2.2.2: LG Exchange calendar support + reworked config panel + fix periodic refresh bug + date lines text color
2.2.1: fix calendars invalid characters + fix orientation display bug
2.2.0: fix DroidX color bullets + fix redraw problem
2.1.9: fix Wildfire bug + fix QEI crash
2.1.8: filter refresh to avoid too frequent updates + fix scrollable widget initialization pb + fix QEI date pb + add X10 compatibility
2.1.6: fix Astrid 3 problems + fix 24h past problem + new quick event insertion panel + fix full day event edition
2.1.5: fix Droid X events bug + arranged configuration panel + fix icons problem for Android 2.2
2.1.4: reset task list selection after dato selection + new default skin + better scrollable refresh
2.1.3: fix listview reboot problem + Data gtasks ready
2.1.2: very very big text size added + show tasks tags option + fix reboot skin bug + Dato Gtasks integration + faster background redraw in landscape
2.1.1: fix critical bullet bug
2.1.0: improve skin manager error handling + hide config button
2.0.9: scroll list dynamic refresh + fix memory allocation pb + fix important color for non scroll + fix landscape aspect
2.0.8: ?
2.0.7: ?
2.0.6: force line break between title, location and description + show pasted and currrent events for scrolllist + use important text color for events in progress + show import/export buttons
2.0.5: fix bullets colors
2.0.4: little boost regenerate for SCROLL + handle font for smaller SCROLL widget
2.0.3: fix event end date
2.0.2: fix events and dates click + hide bullets if required
2.0.1: fix issues with click in other sizes than 4×2.
2.0.0: warning messages about launchers